The Military Alternator Alternative
        Contact info    ron@double-alt.com
Compare
Niehoff Brand
Double Alternator
Popular model
(model N1506-1)
(model 2J or 2P)
14/28 volt output
Yes
Yes
Amperage total output
100
230 or 320
Internal Regulators
No
Yes
1 wire or 3 wire hookup
No
Yes
Patent #9793779 Air Flow
No
Yes
Patent #7291933 Double Alternator
No
Yes
Heavy duty Mounting Bolts
No
Yes
Easy to rebuild-all parts available
No
Yes
Brushes 400% larger – Longer life
No*
Yes
Remote Air Filter for cooler air
No
Yes
Custom voltage/amperage outputs
No
Yes
Aircraft quality parts added
No
Yes
Release from Military to purchase
Yes
No
Steel Billet Pulley
No
Yes
Repair common part. Regulators.
$ 584.
$ 89.
Cost New
$3687.
Special $1395.
Time to ship
22 weeks
3 days
Designed and assembled in USA
?
Yes
Note: Military Alternators in many cases have higher amperage outputs, that are not needed in normal use of the vehicle. A smaller, less expensive Double Alternator is more practical. Our standard is 70 amps at 27.4 volts and 160 amps at 14.2 volts. Total amps available 215. We can build up to 400 amps using heavy duty parts that we stock. With our alternator, a add-on 12 or 24 volt dc Air Conditioning system is possible. No compressor to mount.
* Brushless alternators are slow to start, have less amperage available and much heavier. Expect less power from brushless alternators with hotter air flow through it. Air can be 80-100 f. hotter in competitors, versus our Double Alternator models using the remote air filter kit.
** A core charge of $200 or send to us the old Niehoff alternator and regulator. You can keep old alternator if you are trying to maintain original equipment when you sell vehicle.
Most all Vehicles have engine intake air filters, oil filters, transmission filters, fuel filters, cabin filters, etc. So why not a filter on the electrical systems alternator. We build a single alternator Pad or J mount, with a filter in 12 and 24 volts. Up to 200 amps. Custom Alternators by request. Replace your dual alternators with our single mount double alternator.
Brush Sets; The oversize one is ours.
Double Alternator pulley (left two), made from steel billet. Military pulley on right, cast iron. It broke.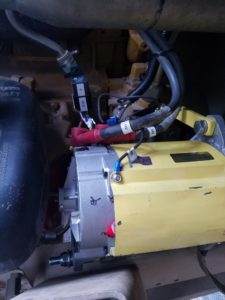 Click each photo for larger image.