The Double Alternator
Introducing the Double Alternator, a newly patented 7291933 & 9793779 technology with several products for sale. The Double Alternator is a revolutionary new vehicle alternator and corresponding electrical system that can be used in single and dual battery vehicle systems using the same space and existing mounting hardware. This innovation has all the benefits of a dual alternator system without any of the disadvantages and is designed for use on trucks, race cars, boats, heavy equipment, military, farm equipment, transit buses, and virtually any vehicle with a motor run by an electrical system. The design of this high output Double Alternator is lightweight, durable, cost effective and has the potential to revolutionize the way vehicle owners and operators think about dual alternator systems.
All expensive vehicles, including Trucking, Construction, Farming, Military, Mining, Police, Fire and more, should have the Redundant Electrical System that Double Alternator provides. Compare it to a Twin Engine Boat. If one engine fails, the other engine will get you to a location for repair. One cheap $3. Diode  failure, will put you on the side of the road and cost $500. to $1500. or more for a tow truck and repairs. This does not include the loss of a delivery or other cost. Alternators have a life cycle of about 150,000 miles for a V8 engine and 120,000 miles for a 4 cylinder.
After having three alternators fail while I was the pilot of an Aircraft, I decided to develop the Double Alternator. One failure was a broken wire and two were bad Regulators. Electrical failure at 9000 feet will get your attention. Engine keeps running but when the battery looses enough volts, you have no communications or navigation systems. In General Aviation you get about 30 minutes to get to an Airport on the battery. In a vehicle at night you may get about the same 30 minutes to park it.
Installation should be about 1 hour.
NEWS FLASH   We have lowered the cost of the Military Replacement Double Alternator. Negotiations with a new parts supplier and a new machining process did it. So, we passed the discount on to you.

AIR CONDITIONING – Now add all Electric A/C to your Vehicle. No Freon lines to run, No Compressor to mount, no new belts to run.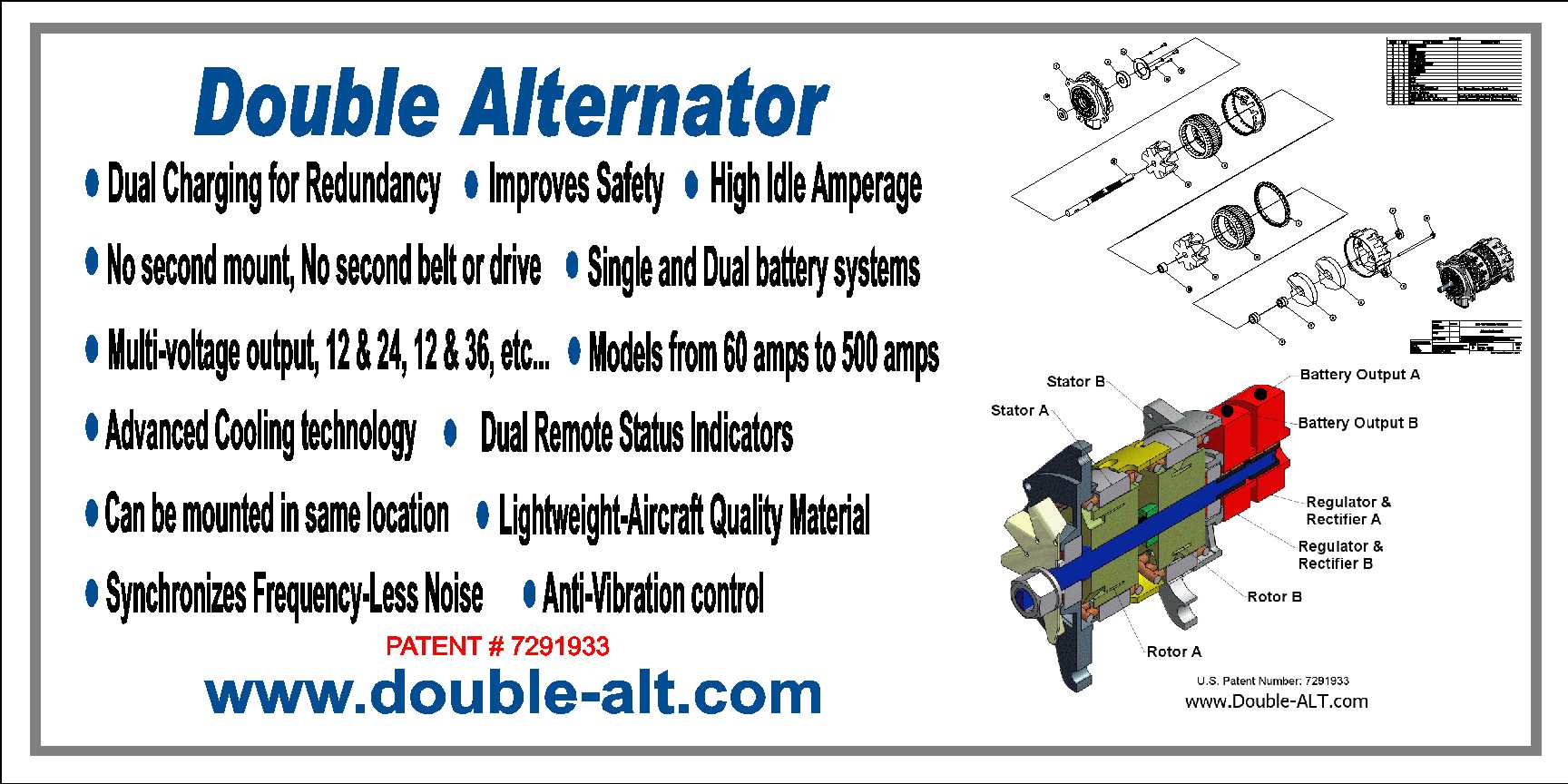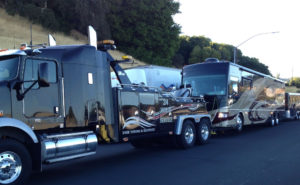 Double Alternators – Features and Benefits
Compared to Single Alternator Systems
Reliably supplies electrical current to motor vehicle

Replaces dual alternators. Offers dual charging and power benefits

Requires no duplication of alternators (no second mount, no second belt).

Can be used in single and dual battery systems.

Replaces existing production of motor-charging engines with dual battery systems.

Can be controlled by internal or external (or one of each) voltage regulators.

Automatic or manual shut down of ½ the unit, allowing sufficient time to get the vehicle to a repair shop.

Multi-voltage output (12 & 16, 12 & 24; 36 , 48 etc.. any combination)

Multiple high amperage outputs (12v at 70 amps & 24v at 30 amps etc. – any combination).

Advanced technology cooling. Cools 50% better. More air flow, better venting.

Vibration control for reliability.

New brush wear technology. Less amps wasted.

Remote status indicators. (indicates partial failure, over/under voltage-amperage).

Improved aircraft quality machining and fasteners.

Lightweight.  Double alternator and two Batteries can be less than OEM.

Dual battery kit for dual battery setups or single battery if you want a single bus. Each Battery can be ½ size of original OEM.

Can be mounted in same location as a conventional alternator.

Mounts on one engine mounting leaving mount open for other equipment(such as Air compressor or 2nd A/C Compressor).

Mounts with existing hardware in most cases.

Synchronizes frequency/waveform output (less noise from alternator output for vehicles with two-way radios such as police and fire vehicles and aircraft).

Replaces: Denso Alternators, AC Delco Alternators, Bosch Alternators, etc.

Delays maintenance of vehicle charging electrical system.

Internal or external regulator.
Note:  We have developed several ways of wiring the Double Alternator to Vehicle/Equipment. The best way is to split the buss bar and have two complete electrical systems running in a parallel fashion. If one half of the Double Alternator fails, it can crossbar to the other half and continue. A second way, is our Regulator Controller, that provides equal loads to each side of our Double Alternator. Some of the details are Proprietary. It has a fail safe design.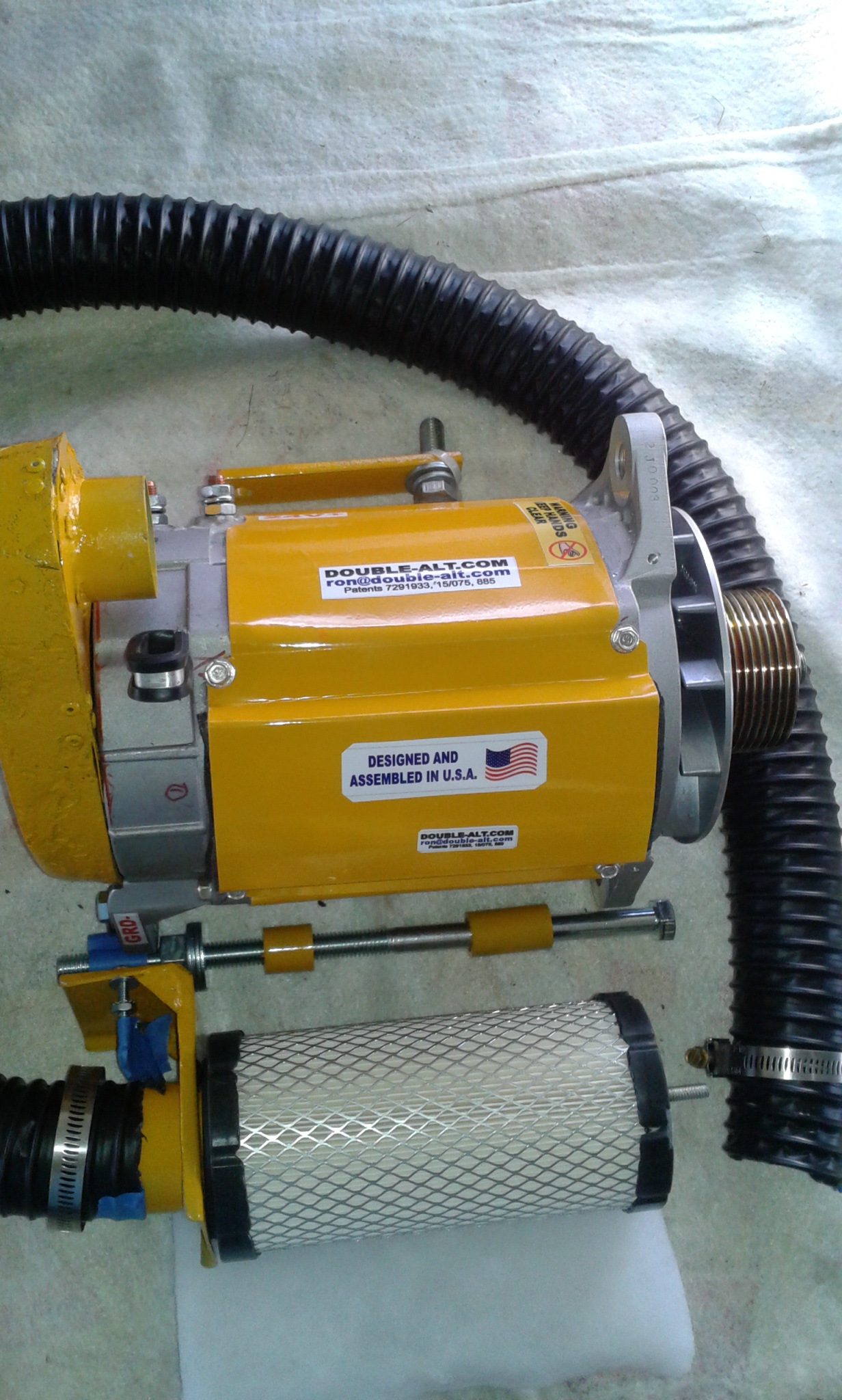 Double Alternators, ready to install. Notice the cooling duct on the one on the left! The Air Filter is remote mounted allowing up to 100 degree Fahrenheit cooler air to circulate. The above alternator uses locale air and filters it.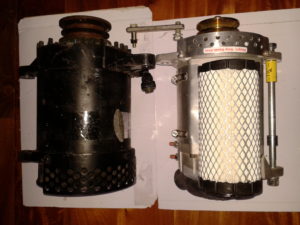 (Old Niehoff on the left – New double alternator with filter on the right for severe duty. 100% clean air. Weighs 20 pounds less.)
Cat Installation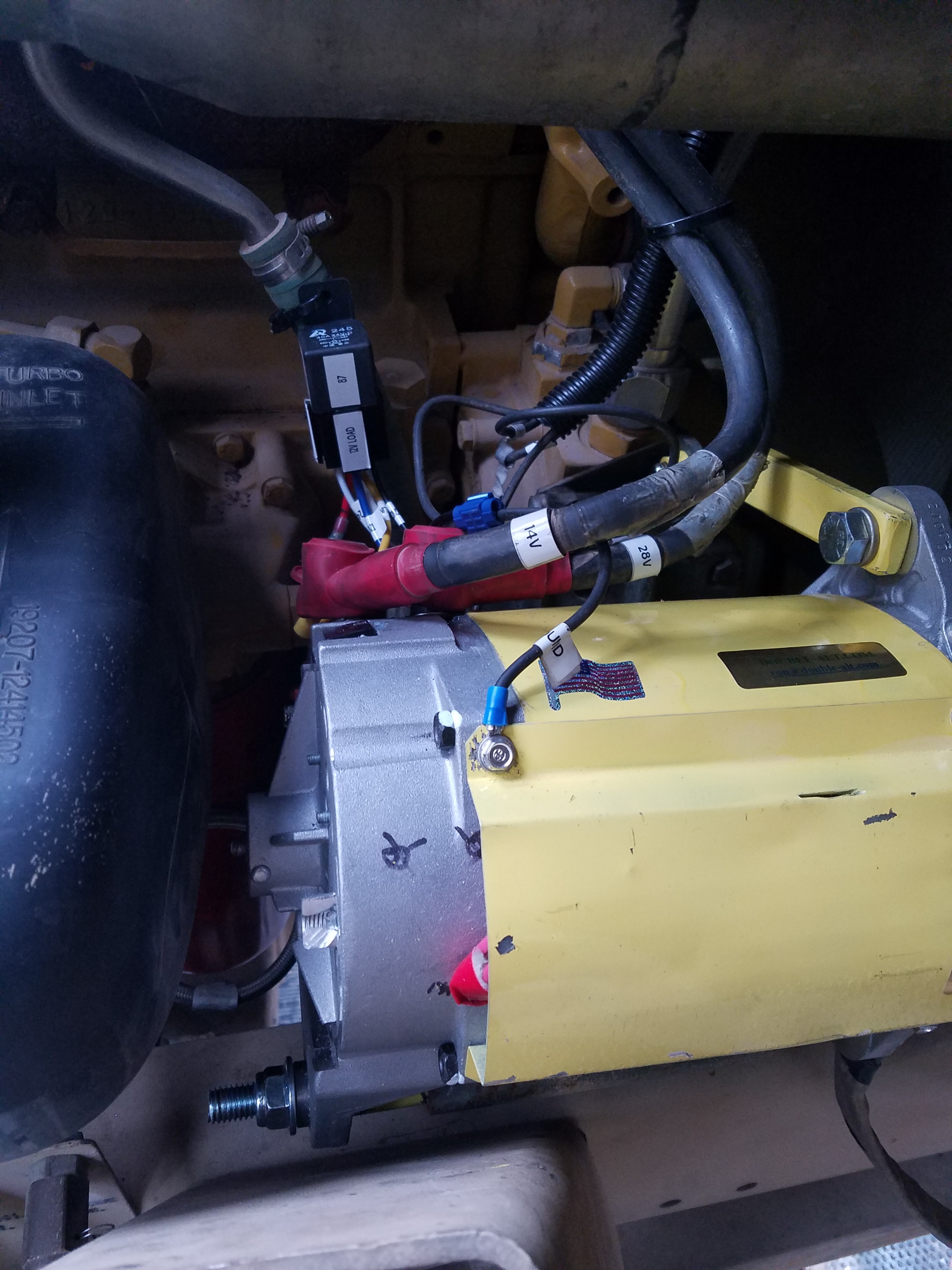 New double alternator replacing old Niehoff on Military Transport Vehicle MTV LMTV M1078 M1083 and many others.
Comparable to Established Double Alternator Products
Dual alternator kits such as the one pictured below, left, are not uncommon, especially as consumers continue to add vehicle options that work to drain the battery charge, such as heating and cooling systems that continue to run when the vehicle is not moving and the battery is not receiving a continual charge. Another emerging trend in vehicle electrical power generation are high powered alternators that are capable of handling increased electrical demand. These alternators are typically used to operate exotic, high current demand, auto sound systems, additional air conditioners and other such aftermarket products.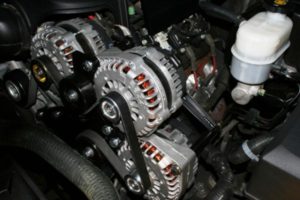 Not the best setup

Double alternator better.
ABOVE LEFT — Costly Aftermarket 2nd Alternator, needs extra bracket and belt if you have the room in the engine compartment.  Above left — Double Alternator is simple to install – just replace your existing alternator. On some vehicles this new product replaces dual alternators. This spare mount can then be used for an air compressor, 2nd air conditioner compressor, or even a hydraulic pump.
Patent # 7291933 covers all Brushed Alternators, Voltage, Current and Type.
Patent# 9793779 covers a new air flow design to help cool the alternator.
Replace your dual alternators with the double alternator.
Research indicates there are no products in production or on the market which offer a comparison in either design or function as the Double Alternator as it is described in the Prospectus and the corresponding patent.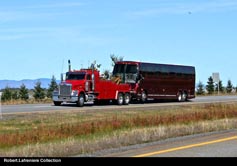 Thank You
ron@double-alt.com    843 756 7007